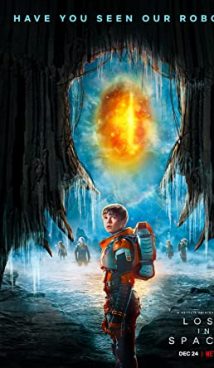 TV-PG
01 hours 00 minutes
Synopsis
The #24 group of colonists are aboard the spacecraft bound for the Alpha Centauri star system. The Robinson family is at the center of the plot of the TV show (and the choice in favor of this last name was made for a reason). Somewhere near Jupiter, the spacecraft collided with an object and made an emergency landing. Once on the surface of this planet, the Robinsons must make every effort to survive, return to space and continue their original mission.
Lost in Space is a TV show that does not aim to impress the viewer with shocking plot moves and adult intrigues as we deal with a family television series first and foremost. So, don't expect serious drama – just turn on the new episode of "Lost in Space", call your family and relax enjoying the spectacle.
Interesting Facts
The first season of the TV show was released on April 13, 2018 on Netflix, with all episodes immediately available for watching. The second season of the television series premiered a year and a half later, on Christmas Day 2019. The third season, which will be the final one, will be released in 2021.
"Lost in Space" is a remake of the television series of the same name that aired in 1965-1968. Curiously, the first episodes of the original TV show were in black and white, while the second and third seasons were already in color. By the way, Lost in Space is not the first attempt at remaking a 1960s TV show. Planned to release its own version of the original television series, "The WB" released a pilot episode in 2004 – however, the project was then immediately canceled.
"Lost in Space", a feature-length film directed by Stephen Hopkins featuring a brilliant cast, was premiered in 1998. Grossing only 136 million dollars at the box office, this blockbuster was received coolly by the public.
About
Lost in Space is an American-made fiction-adventure television series, a remake of the 1960s TV show of the same name. The first season of the TV series was released on April 13, 2018 on Netflix streaming platform.
Related Shows
Locke and Key
Stranger Things
A Series of Unfortunate Events
The Letter for the King
Tags: fantasy, drama, adventure, spacecrafts, remake, family