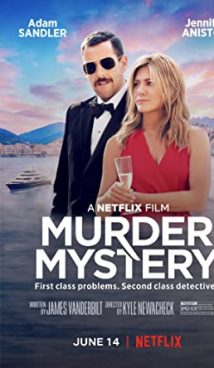 PG-13
01 hours 37 minutes
English, French, Latin, Spanish

6.0
Synopsis
The Murder Mystery film tells the story of Nick and Audrey Spitz (Adam Sandler and Jennifer Aniston), an American couple who traveled to Europe. On the plane, they meet Charles Cavendish, a millionaire and viscount who invites the ridiculous couple to continue their journey with him. After giving their consent, Nick and Audrey get on a luxury yacht full of high-society representatives – this is where the first murder takes place. The couple are becoming prime suspects, but the murders continue. With this, Nick and Audrey's European tour is just beginning. There will be many more crimes ahead in which they will find themselves. Fighting for their lives, the couple will begin their own investigation. And everything that happens is accompanied by excellent humor, beautiful views and European flavor.
Interesting Facts
The Murder Mystery was filmed for the Netflix streaming service. The film was premiered on June 14, 2019 and has been available to all Netflix subscribers since then.
Adam Sendler and Jennifer Aniston are playing a married couple not for the first time. In Just Go with It, the film released in 2011, the actors played former colleagues who were pretending to be a married couple, and eventually fell in love with each other.
Adam Sandler continues his collaboration with Netflix. According to the actor, in the future there will be releases of four more shows starring him.
Jennifer Aniston sees herself as a TV series star again – she plays the top-rated US news anchor in The Morning Show, a television series aired on Apple Tv Plus. Season 2 is expected to premiere this winter.
The Murder Mystery is a hugely successful Netflix project, surpassing The Stranger Things in popularity. Noteworthy, the Season 3 was premiered 2 weeks apart to the film.
About
The Murder Mystery is an American-made comedy detective film. The world premiere of the film took place on June 14, 2019.
Related Films
Just Go with It
We're the Millers
Murder on the Orient Express