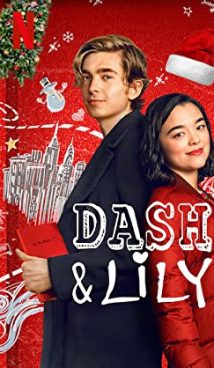 Synopsis
One day, on Christmas Eve, the gloomy young man Dash, a New Yorker to the core, decided to go to his favorite bookstore. Not fond of the holidays, Dash wants to avoid the Christmas frenzy. On one of the store shelves, the young man found a red notebook, which involved him in some exciting game. Lily, the owner of the notebook, enjoy the Christmas and even seems to be an overly enthusiastic person at times.
Dash and Lily start to communicate through a red notebook, coming up with challenges for each other. However, can a guy and a girl meet in real life? "Dash & Lily" is a cozy eight-part romantic comedy that is worth watching both during the Christmas season and in the summer days when the viewer wants to take a break from dramatic, action and fantasy TV shows.
Interesting Facts
The "Dash & Lily" TV series was released on November 10, 2020 on the Netflix streaming platform, with all episodes immediately available for viewing.
The TV show is based on the 2010 novel "Dash & Lily's Book of Dares" by David Levithan and Rachel Cohn. The writers are also famous for several other books that have also been filmed – "Nick and Norah's Infinite Playlist" and "Naomi and Ely's No Kiss List" movies.
Since "Dash & Lily's Book of Dares" was followed by two more novels published later, the TV show is likely to be renewed.
This is not the first time that Joe Tracz, the TV series producer, has partnered with the Netflix platform. Previously, he was noted for his work on the script for "A Series of Unfortunate Events" TV show.
About
Dash & Lily is an American-made romantic comedy TV series. Season 1 of the TV show premiered on November 10, 2020 on Netflix streaming service.
Related Shows
Bridgerton
Emily in Paris
Sweet Magnolias
Tags: New York, Christmas, New Year, romance, boyfriend and girlfriend, search for halves