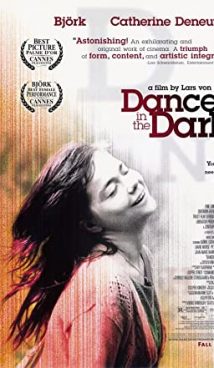 English, German, Czech

8.0
Synopsis
The Czech immigrant Selma lives with her son in the vicinity of Seattle, where she works in a factory. Due to an illness, the girl slowly goes blind, and, unfortunately, this ailment turns out to be genetic: Selma's son also loses his sight. The heroine hardly saves money for her son's surgery, living in conditions of the total economy. Life is extremely difficult, but her favorite musicals help Selma stay afloat: she constantly imagines that the people around her are dancing and singing songs. Once the owner of the trailer, which Selma is renting, sees her saved money and wants to take it for himself. An already sad story becomes a terrible tragedy …
Interesting Facts
Dancer in the Dark was presented to the public on May 17, 2000, at the International Cannes Film Festival, where it instantly became a thing. The picture earned the Palme d'Or, and the singer Bjork won the prize for Best Actress. Also, I've Seen It All was nominated for an Oscar for Best Soundtrack but lost to Bob Dylan's Wonder Boys. By the way, I've Seen It All is a duet of Bjork and Thom Yorke from Radiohead. It was for this Oscar ceremony that the singer wore that legendary swan dress that instantly became a phenomenon.
Filming in Dancer in the Dark was testing for Björk. Not only did Lars Von Trier have a conflict with the singer, in 2017 Björk almost directly accused the Danish director of harassment. Since then, the singer has had a strong desire to star in films. However, in 2005, she appeared in the psychedelic film Drawing Restraint 9 by Matthew Barney, whom she was dating at that time. Meanwhile, Björk broke off her dislike of filming by agreeing to play a Slav witch in the potential Viking blockbuster The Northman. The film is currently in production and will star Alexander Skarsgård, Nicole Kidman, William Defoe, and Anya Taylor-Joy.
Information
This is a co-production musical drama film.
The world premiere of Dancer in the Dark took place on May 17, 2000, at the Cannes Film Festival.
More Like This
Breaking the Waves
Melancholia
Manderlay
Dogville
Tags: drama, music, tragedy, Björk, Lars von Trier