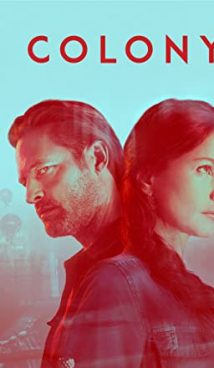 Synopsis
All the most pessimistic predictions regarding the meeting of terrestrial and alien civilizations came true. The aliens – whom not everyone managed to see – wiped out the leaders of humanity, suppressed uprisings and divided cities into blocks in just a few days. Now, each district – the so-called colony – is deprived of communication with the others and is under the control of the military police "Redhats" consisting of collaborators.
The Bowman family, who live in one of these colonies, formerly the Los Angeles area, are at the center of the TV show's plot. Will (Josh Holloway), the head of the family, is forced to work for "Redhats" while his wife is secretly collaborating with the "Resistance" ("Insurgency") organization, which makes every effort to fight alien invaders.
Interesting Facts
The "Colony" TV series premiered on January 14, 2016 on USA Network. Renewed twice for new seasons, the TV show was canceled on July 25, 2018.
The showrunners of the TV series hired actors who gained their popularity through participation in other projects – Josh Holloway is known for his role as Sawyer in "Lost", and Sarah Wayne Callies played the wife of Rick Grimes in "Walking Dead".
Carlton Cuse, best known for the American television series "Lost", is one of the showrunners for "Colony".
About
Colony is an American-made fantasy thriller TV series. The first season of the TV show was premiered on January 14, 2016 on the USA Network TV channel.
Related Shows
V
Falling Skies
Salvation
Terra Nova
The Last Ship
Defiance
Tags: post-apocalypse, alien invasion, aliens, drama, science fiction, thriller, Los Angeles, Josh Holloway