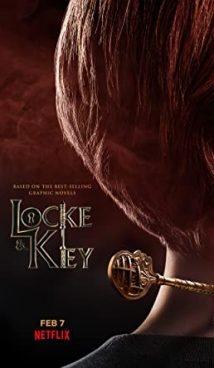 Synopsis
After the murder of her husband, Nina Locke (Darby Stanchfield) with her three children moves from Seattle to the Locke family estate in Matheson, Massachusetts. Soon, teenagers notice that something strange is happening in the house: they find several magic keys. The first key allows being anywhere, the second one gives the opportunity to get out of the body and fly like a ghost, and the third one literally opens the braincase, whereof it is possible to get all the fears and feelings. However, everything is not so safe: the mysterious Echo lives in the well near the house, which hunts for keys and wants to do something very bad.
Locke & Key is a film adaptation of the eponymous extremely popular novel by Joe Hill, the son of Stephen King, who is the King of Horrors. By the way, Joe Hill appears in the first episode of the series as an ambulance driver.
This is the fourth attempt to film a comic book. First, Fox and Universal Studios took on the project, then the Hulu channel did that, and only Netflix was able to shoot the series. As a result, Locke & Key became a hit and got continuation.

In the graphic novel, the action took place in Lovecraft town, which was named after the creator of the

Cthulhu Mythos. The creators of the series renamed the town as Matheson, dedicating it to another great fiction writer Richard Matheson.
Having opened Kinsey's head with the key, the heroes fall into her inner world in the form of a mall. This shopping mall can also be seen in Stranger Things, another Netflix hit.
The American-made TV series is based on the eponymous graphic novel by Joe Hill and shot in the fiction genre.
The first season premiered on February 7, 2020 on the Netflix platform.
You can watch the series trailer online on the website without registration. You can also find interesting facts about the series and find out the release date in Russia.
What channel is producing the series?
Locke & Key was commissioned by Netflix streaming platform.
When did the first season come out in Russia?
The whole season is available to Netflix subscribers from February 7, 2020.
Will there be a sequel?
Yes, the series has already been officially extended for the second season.