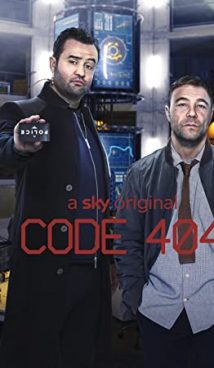 Synopsis
This is a real British comedy with a touch of modern technology.
Co-detectives Roy (Stephen Graham) and John (Daniel Mays) are bog standard British cops, but things changed after John's death on his beat. The police heads decide to bring John to life using the high technology. Scientists implanted the artificial intellect in John's body as a part of experiment and then John turned up to his work. Roy was definitely in awe of what has happened. John is quite unlike himself, but it comes with the job of tackling crime in a cyborg manner.
Code 404 includes many jokes about cops, modern technology and guys willing to be strong. Code 404 is also a police procedural in defiance of its humor. Each episode includes new case to be cracked by the main characters. This series is better than you can imagine.
Interesting facts
Daniel Mays as a robocop is a British actor acted in the background of many American blockbusters, namely 1917 and Rogue One; he also was spotted in Good Omens, the hit series of the past year.
By the way, the second lead actor Stephen Graham had mini roles in such smashing hits as Snatch and Pirates of the Caribbean: Dead Men Tell No Tales. Besides, he will soon appear in Venom comic book sequel.
Information
The British-made TV series is shot in the comedy genre.
The first season premiered on April 29, 2020 on Sky One British channel.
FAQ
What channel is producing the series?
Code 404 was shot for Sky One British channel.
The series has been renewed for the second season and will be probably broadcasted in 2021.
Related Series