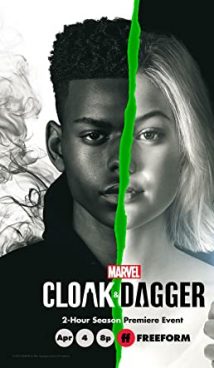 Synopsis
Cloak & Dagger is a story about fantastic opposites.
Her name is Tandy, and she is a girl whose family became impoverished after the death of her father. Now, Tandy steals, lives in an abandoned building, and does not believe in a bright future.
His name is Tyrone, and he is a successful teenager from a thriving African American family.
The chance meeting of Tandy and Tyrone awakens the forces that were dormant in them. Now Tandy can create daggers from light, and Tyrone is able to teleport using shadows.
Opposites attract, fall in love, and work together.
Interesting Facts
Both seasons of Cloak & Dagger were aired on the American TV-channel Freeform. The first season started on March 11, 2018, the second began on April 4, 2019. Six months after the finale of the second season, the channel reported that the series was closed.
One of the reasons for closing all TV-series based on Marvel comics is that now Disney is filming new series, that will be integrated into the MCU. The first one will be WandaVision, which release is scheduled for January 15, 2021, followed by Falcon and the Winter Soldier, Loki, and others. As such, all TV-series released before WandaVision are now officially unrelated to the MCU storyline.
After the closure of the series Cloak & Dagger, performers of the leading roles, Aubrey Joseph and Olivia Holt, remained in the Marvel universe. They now voice their characters in the Spider-Man animated series.
Information
This is an American fantasy adventure TV-series based on Marvel comics.
The premiere of the first season of Cloak & Dagger took place on March 11, 2018, on the Freeform TV-channel.
More Like This
Runaways
The Gifted
Inhumans
The Defenders
Tags: comic, marvel, superpowers, fantasy, drama, teens, romance, superpowers