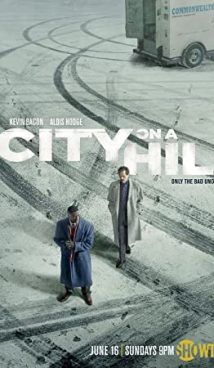 TV-MA
01 hours 00 minutes
Synopsis
The TV series shows American Boston in the early 1990s mired in crime, corruption and alienation. Since different law enforcement agencies cannot agree with each other, normal development of the city is not possible. However, Decorcy Ward (Aldis Hodge), the newly relocated District Attorney from New York, wants to change things for the better. Unfortunately, in his quest, he has to cooperate with the nosy Fed agent Jackie Rohr (Kevin Bacon). So, will this fragile alliance help in the struggle for the safety of the city?
Interesting Facts
"City on a Hill" Season 1 aired from June to August 2019 on Showtime. Warmly received by critics, the TV show has been renewed for a second season – however, no premiere date has been announced yet.
Matt Damon and Ben Affleck are the producers of the "City on a Hill" TV show. Best friends in life, the two actors grew up in Massachusetts, whose capital is Boston. It is this place that inspires them to write stories for their projects. "Good Will Hunting", the breakout film for Matt and Ben, and which won a 1998 Academy Award, is set in Massachusetts.
It is noteworthy that Kevin Bacon has previously played the role of a Boston cop – in the "The Mysterious River" movie by Clint Eastwood.
"City on a Hill" is one of Boston's nicknames, given to him by John Winthrop as the region's elected governor in 1629. "American Athens" is the second unofficial name of the city, as this is where Harvard University is located.
About
City on a Hill is an American-made crime drama TV series. The first season of the TV show premiered on June 16, 2019 on Showtime.
Related Shows
Animal Kingdom
Snowfall
ZeroZeroZero
Tags: drama, crime, Boston, USA, prosecutor, Kevin Bacon