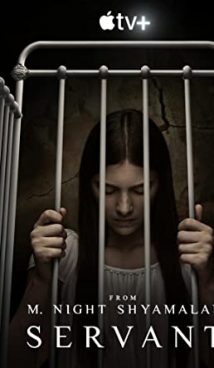 Synopsis
It is quite a stretch to describe the Turners family living in a luxurious area of ​​Philadelphia as a regular one: all because one of its members is…a doll named Jericho. After the tragic death of their first child, the head of the family, a chief-cooker Sean, had to take this doll into the house to console his wife, a journalist Dorothy. A dummy lies in a crib, and the mother, Dorothy, refuses to realize that the real child is dead. Dorothy looks after Jericho and even persuades her husband to hire a nanny. The whole situation gets even more mysterious when a girl named Leanne comes to their house and humbly takes up the duties of a servant. Here some devilry begins, and no one, including the audience, understands now: where and when the line of realism was crossed, what is really going on and who this Leanne is for real.
Interesting Facts
The first episode of the new season of the "Servant" aired on January 15, 2021 via Apple TV+ streaming service. The episodes will be released weekly. By the way, the first season of the "Servant" is now available on this streaming platform. The series is already renewed; moreover, its creators announce to have plans for full six seasons.
Italian chef Marc Vetri was hired as a consultant for the scenes involving cooking and recipes, as main character Sean Turner is a consulting chef who creates recipes for restaurants. One of the creators of the series, the master of suspense M. Night Shyamalan not only produced the "Servant" but also directed several episodes of it. By the way, the famous director is currently working on several projects. One of them, the film "Old", should be released in the summer of 2021. As usual, the plot of the picture is kept under a deep, dark secret.
About
"Servant" is an American-made television series filmed in the genre of mystical thriller.
The premiere of the second season of the "Servant" series tooke place on January 15, 2021 at the Apple TV+ online cinema.
Related Shows
Tags: thriller, drama, horror, mystery, M. Night Shyamalan, child, death, cooking