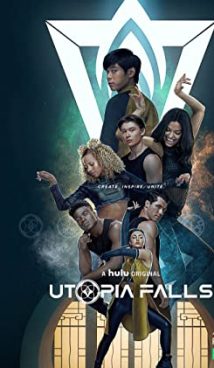 TV-PG
01 hours 00 minutes
Synopsis
Within about three hundred years, there is only one human settlement on our planet, New Babyl. There are terrible conditions outside the colony after the war that destroyed humanity; however, inside the dome, people live quite well and even dance. Every year, a dance competition called the Exemplar is held for those who have turned 16.
Preparing for the Exemplar, the main heroin young Aliyah 5 (Robyn Alomar) accidentally gets access to forbidden knowledge, more specifically, a library of hip-hip records. Discovering new music, she understands the way hip-hop culture will help her alter life for the better.
Interesting facts
Archive is something like dystopian hip-hop Siri; it speaks in the voice of renowned musician Snoop Dogg.
According to the plot, New Babyl is divided into four sectors as follows: Progress, Industry, Nature and Reform. Each sector has its own color. Progress citizens wear blue, Nature citizens wear green, Industry citizens wear orange and Reform citizens wear grey uniform.
The main character is named after Aaliyah, the R&B icon who died in 2001.
Information
The Canadian-made TV series shot in the fiction genre.
The first season premiered on February 14, 2020 on the Hulu platform.
You can watch the series trailer online on the website without registration. You can also find interesting facts about the series.
FAQ
What channel is producing the series?
Utopia Falls was commissioned by the Hulu platform.
When did the first season come out?
The entire season is available from February 14, 2020.
Will there be a sequel?
The showrunners have not yet announced the extension of Utopia Falls.
Related Series
The 100
Dickinson
Motherland: Fort Salem
Tags
teens, dystopia, dancing, hip hop, post apocalypse, survival