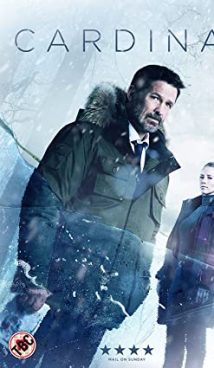 Synopsis
John Cardinal, a detective from Canada, investigates crime for four seasons. He seems harsh at first but is a gentle husband and caring father. He lives in a small sleepy town of Algonquin Bay, where something creepy is constantly going on.
However, this is not the only burden for Cardinal. His wife suffers from a serious mental illness, which gives the detective new reasons to worry about. In addition, a new employee, Lise, starts working at the police station, but she is not only involved in current investigations. Secretly, with instructions from the higher-ups, she checks Cardinal's involvement in the drug trade.
Interesting Facts
The first episode of the Cardinal TV-series was shown on February 28, 2017, on the Canadian TV-channel CTV. The premieres of each following season took place annually until 2020. The series lasted four seasons.
The series is based on detective novels by Canadian writer Giles Blunt about John Cardinal's investigations. The first season is based on the Forty Words for Sorrow novel, and the second one is on Black Fly Season. The third season took as a basis two novels at once, and the final one follows the plot of the series' last book.
Giles Blunt, the author of the book series on which the show is based, grew up in North Bay, Canada. Here, the writer settled John Cardinal, giving the city a new name, Algonquin Bay. Interestingly, the two cities — real and fictional — are no different from each other apart from their names. By the way, most of the TV-series filming took place in North Bay.
Each of the seasons of Cardinal corresponds to the season of a year. The first season takes place in the spring, the second in the summer, and the third in the fall. The fourth one tells about an investigation in the dead of winter.
Information
This is a Canadian-made crime story TV-series based on the Giles Blunt's book series.
The premiere of the fist season took place on January 25, 2017, on the Canadian TV-channel CTV.
More Like This
Baptiste
Dublin Murders
Shetland
Wisting
Tags: Canada, investigation, crime story, police, murder, screen adaptation