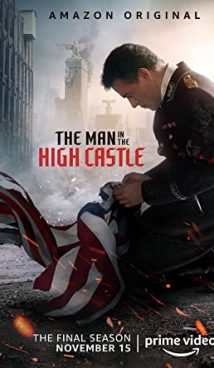 TV-MA
01 hours 00 minutes
English, Hebrew, German, Japanese

8.0
Synopsis
Imagine that history took a terrible turn: The United States did not have time to get out of the Great Depression before the start of World War II. Europe and Russia fell under the pressure of the Nazis without the support of American troops. The Axis Powers won the war, and the battlefield came across the oceans. As a result, the United States is divided by the victors: the eastern part is a part of the Great Nazi Reich, and the western coast is the Japanese Pacific States.
The plot of The Man in the High Castle is centered on the agents of the Resistance fighting the invaders and dreaming of restoring their homeland. Meanwhile, in the territory of the former United States, someone is distributing strange films showing a completely different course of history, where the Anti-Hitler coalition won World War II.
Interesting Facts
The pilot episode of The Man in the High Castle premiered on Amazon on January 15, 2015. The viewers eagerly accepted the novelty, and a full first season was ordered, which came out in November 2015. The seasons aired annually until November 15, 2019, when Amazon released the final ten episodes of the series.
One of the series executive producers is director Ridley Scott.
The showrunner of The Man in the High Castle is Frank Spotnitz, who once worked on The X-Files. Now, Spotnitz is finishing his work on a series about the life of the great painter Leonardo da Vinci, whose role is played by Aidan Turner.
The TV-series is based on a novel of the same name by Philip K. Dick. The Man in the High Castle was published in 1962 and immediately won the Hugo Science Fiction Literary Prize. Interestingly, the novel was the first alternate history work to receive this award.
Information
This is a co-production sci-fi TV-series based on the novel of the same name by Philip K. Dick.
The premiere of the first season of The Man in the High Castle took place on January 15, 2015, on the Amazon streaming service.
More Like This
The Americans
Hunters
The Plot Against America
Tags: alternate history, America, Nazis, Japanese, drama, thriller, sci-fi