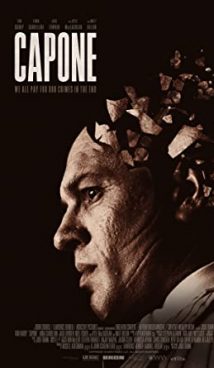 Synopsis
It is a biographical drama about down and dirty years of life of the most famous gangster.
After release from Alcatraz for health reasons, Al Capone (Tom Hardy) moves to live with his family in Florida. Formerly the most dangerous man in Chicago, now he ekes out a miserable existence. He has no friends or ties. Today, he is slowly degrading and suffering from dementia and the effects of syphilis. The influential gangster Al Capone becomes a person with the mind of a 12-year-old child.
 Interesting facts
This is the second attempt by Tom Hardy to play the role of Al Capone. Previously, he was supposed to play the role of the gangster in Cicero by David Yates; however, the project has not moved forward.
According to rough estimates, this is the fifteenth time that the character of Al Capone appears in a movie or a series. Sure enough, the most famous is Robert De Niro in the legendary The Untouchables by Brian De Palma.
The tentative title of the film is Fonzo and only before the premiere, it was titled Capone. As a matter of fact, Russian localizers decided to title it Scarface.
Initially, the film was planned for a cinema show, but the coronavirus pandemic forced to make the online premiere.
 Information
The film of Canadian and American production is based on the life of Al Capone and shot in the biographical drama genre.
The film premiered online on May 12, 2020 in the United States.
You can watch the movie trailer online on the website without registering. You can also find interesting facts about the film and find out the release date in Russia.
FAQ
Who is the film director?
Josh Trank is the director of Capone. This film is an attempt to regain reputation after the deafening failure of his previous project, The Fantastic Four comics.
Related Movies
Public Enemies
Chronicle
Legend