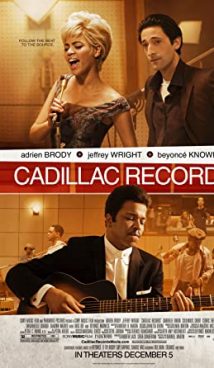 Synopsis
Chicago, 1950. Bar owner Leonard Chess is so fond of blues that he decides to create his own music label, which starts recording black artists. Over time, the new record company gains a serious reputation in the industry, having in its assets not only newcomers but real stars.
Before our eyes is a kaleidoscope of 1950s Chicago life, lavishly strewn with appearances by artists such as Etta James, Chuck Berry, Muddy Waters, Little Walter, and even The Rolling Stones.
Interesting Facts
Cadillac Records premiered on November 24, 2008, in Los Angeles, California. A week later, the film was released worldwide.
Beyoncé, who played the great singer Etta James in Cadillac Records, was nominated in 2009 for a Golden Globe for her song Once in a Lifetime, performed in the film. However, that year Bruce Springsteen took the statuette for the title track for the drama The Wrestler. By the way, two years before Cadillac Records, Beyonce actually played another musical icon — in Dreamgirls, she transformed into a singer, whose prototype was Diana Ross.
The real name of Leonard Chess was Lazor Chizh, and he was born in a Jewish town near Brest. When Leonard was two years old, his family emigrated to the United States. By the way, initially, his role in Cadillac Records was supposed to be played by Matt Dillon, but he was replaced by the Oscar-winner Adrien Brody, who has Polish-Jewish origins.
Information
This is an American musical drama film based on real-life events.
The world premiere of Cadillac Records took place on November 24, 2008.
More Like This
Dreamgirls
Talk to Me
Ray
Bohemian Rhapsody
Tags: music, label, Chicago, 1950s, recording studio, USA, drama, based on real-life events, Adrien Brody, Beyonce