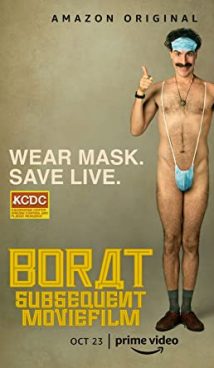 Synopsis
Sacha Baron Cohen, the maestro of the comedy genre, will once again appear before the audience in the image of Borat, perhaps his most famous character. Kazakh journalist Borat Sagdiev goes to America once again – and this time he takes his daughter with him. Tons of terribly politically incorrect and indecent humor await audiences again – however, that's what makes Borat such a wonderful hero.
Interesting Facts
The world premiere of the film took place on October 23, 2020 on the Amazon Prime streaming platform. As known, the presidential elections in the United States will take place on November 3, 2020. Since, in all likelihood, Donald Trump himself will become the main target for jokes, the date of the film's premiere was chosen for a special reason.
The film will be released under an unusually long title – Borat Subsequent Moviefilm: Delivery of Prodigious Bribe to American Regime for Make Benefit Once Glorious Nation of Kazakhstan.
Capable of not only trolling hard, Sacha Baron Cohen, an English comedian, has been focusing on more serious film projects in recent years. Starring in the title role of the "The Spy" French television series, Sacha was nominated for a Golden Globe in 2020. The actor managed to impress critics with how he got used to the image of the Eli Cohen, Israeli intelligence officer who was executed in Syria in 1965. Notably, Cohen was nominated for the same award a year earlier for his participation in "Who Is America?" television series. Also, "The Trial of the Chicago 7" movie starring Sacha Baron Cohen premiered in October 2020. Having a socio-political context, this film has every chance of becoming a laureate of many film awards.
About
Borat Subsequent Moviefilm is an American-British satirical comedy film. The world premiere of the movie took place on October 23, 2020 on the Amazon Prime streaming platform.
Related Films
Tags: comedy, satire, sequel, trolling, Sacha Baron Cohen