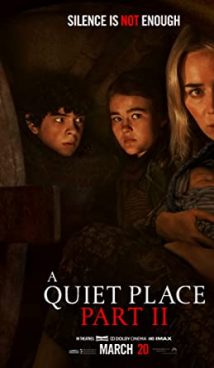 PG-13
01 hours 37 minutes
Synopsis
Continuation of the sensational horror of 2018.
We find ourselves in the near future together with the heroes of the film. Bloodthirsty monsters almost exterminated humanity. They see absolutely nothing, but they hear any sound very well. That is why the life of the Abbotts is subject to only one principle: keep silence. Evelyn (Emily Blunt) and Emmett (John Krasinski) live on a far-off farm and bring up two children.
After the tragic finale of the first film, in A Quiet Place: Part II, Evelyn and her children leave the shelter and go to the outside world. However, soon they will realize that blind monsters are not the worst thing fate has prepared for them.
 Interesting facts
John Krasinski, known for his role in the extremely popular TV comedy The Office, wrote the screenplay for both films A Quiet Place by himself; he also produced and directed these films. Besides that, his wife Emily Blunt acted in the lead role and he himself played in the first film; however, he appeared in the sequel only in an episodic role for obvious reasons. Nevertheless, we can see him at his best in the series Jack Ryan, which has recently received an extension for the third season.
It is worth noting the brilliant acting of the magnificent Irish actor Cillian Murphy and two-time Oscar nominee Djimon Hounsou.
Initially, the film premiere was planned in March 2020, but due to the epidemic of coronavirus, it was postponed to September 4, 2020.
Information
The American-made film shot in the fiction genre is the sequel to A Quiet Place (2018).
The premiere will take place on September 4, 2020.
You can watch the movie trailer online on the website without registering. You can also find interesting facts about the film and find out the release date in Russia.
FAQ
When will the film premiere in the world and in Russia?
A Quiet Place: Part II premiere is planned on September 4, 2020 around the world.
What were the box office sales of A Quiet Place?
With a budget of $ 17 million, the film has grossed $ 340 million worldwide.
 Related Movies
A Quiet Place
The Birdcage
It
Resurrection