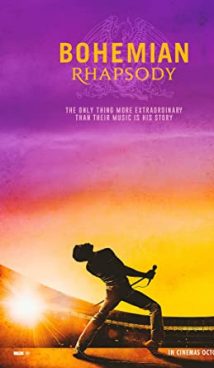 PG-13
02 hours 14 minutes
English, British Sign Language

8.0
Synopsis
From a meeting of musicians with Farrukh Bulsar to that very legendary Live Aid performance that many critics have called the best in the history of rock, "Bohemian Rhapsody" film tells about the Queen legendary band and its path to global popularity.
The difficult life of Freddie Mercury, the difficult relationships between the band members, departures and returns, and outstanding music – all that was reflected in the "Bohemian Rhapsody", which – with its four Oscars – became one of the most expected films of 2018.
Interesting Facts
Bohemian Rhapsody premiered to the public on October 23, 2018 in London, with a worldwide release the following day. The digital release of the film took place on January 25, 2019.
Having nothing to do with the Czech Republic, "Bohemian Rhapsody" is the most expensive single recorded in the history of modern music.
Rami Malek, the actor who played the main role in the film, wore a special denture on set to imitate Freddie Mercury's malocclusion. The actor decided to keep this denture as a souvenir.
A few weeks before filming ended, there was a conflict between Brian Singer and the bosses of 20th Century Fox. As a result, Dexter Fletcher was appointed the new director of the motion picture. It is noteworthy that Fletcher's next work was "The Rocketman", a musical biopic about the Elton John life.
It is likely that "Bohemian Rhapsody" will be the final film in the filmography of director Brian Singer. Regularly at the center of sexual harassment scandals, Singer may leave Hollywood prematurely.
About
Bohemian Rhapsody is a British-American co-production biopic film with world premiere took place on 23 October 2018 in London.
Related Films
The Rocketman
A Star Is Born
The Imitation Game
Tags: music, biopic, Queen, Freddie Mercury, drama, concert