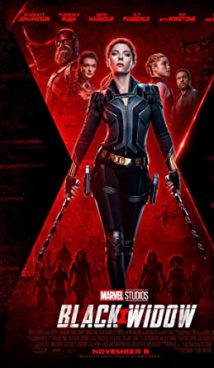 Synopsis
Black Widow Natasha Romanoff (Scarlett Johansson), after being in the center of the conflict between Captain America and Iron Man, is on the run. She has to face the past. In order to move on, she needs to deal with unresolved issues that she left before her work in the Avengers Team. She will meet her mentors: Red Guardian (David Harbour) and Iron Maiden (Rachel Weisz). Natasha will also join the battle with the mysterious villain Taskmaster who is able to copy any fighting styles of his rivals.
 Interesting facts
This is the twenty-fourth film of the Marvel Cinematic Universe and the first film of the fourth phase. This is also the ninth appearance of Black Widow character. Chronologically, the film takes place before the events of Avengers: Endgame, so Black Widow and Iron Man are alive and well.
David Harbour frequently starred in movie comics. He was a villain in the not-so-successful The Green Hornet and acted in Suicide Squad. Besides, recently we saw him in the role of Hellboy.
The music for Black Widow was written by the French composer and winner of two Oscar Awards, Alexandre Desplat.
Information
The American-made film is based on the Marvel Comics and shot in the fiction genre.
The premiere will take place on November 5, 2020.
You can watch the movie trailer online on the website without registering. You can also find interesting facts about the film and find out the release date in Russia.
FAQ
Where was the movie made?
The crew of Black Widow traveled half the world: they filmed in the USA, Morocco, Norway, Hungary and the UK.
 Related Movies
Wonder Woman 1984
Avengers: Endgame
Black Panther
Captain Marvel