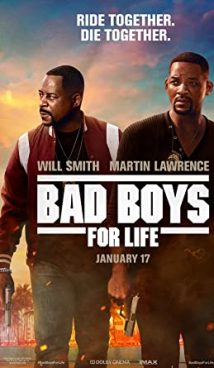 English, Spanish

6.7

USA | Mexico
Synopsis
This is the sequel of two extremely popular action comedies, which was stuck in "development hell" for fifteen years.
We meet again the reckless cops Mike Lowry (Will Smith) and Marcus Burnett (Martin Lawrence). The time passes, they are not getting any younger; as for Marcus, after becoming a grandfather he wants to retire. Everything changes after prison breakout of Isabel Aretas, as she was nicknamed, "La Bruja" (The Witch), the widower of drug kingpin, who wants to get revenge on everyone including Mike Lowry. Lowry doesn't even know what's behind these secrets of the past.
Interesting facts
Despite of being developing for about fifteen years, right after the release of the trequel "Bad Boys for Life", studio execs announced the planning of the forth movie in the franchise.
It's interesting that despite the fact Will Smith is in high demand on the screen, he finds time for other things. For example, in 2018 NationalGeographic released documentary series "One Strange Rock", where the actor tells the story about human life with unexpected outlook.
The directors duo Adil El Arbi with Bilall Fallah started developing another franchise after the entry of Bad Boys trilogy: in a couple years we wait for "Beverly Hills Cop 4" starring Eddie Murphy.
Information
The Mexican-American production action comedy movie, sequel of the "Bad Boys" and "Bad Boys 2" movies.
The movie was released on January 7, 2020 in Berlin.
Questions and Answers
Where was the movie shot?
All the shooting took place on the American continent: in Georgia and Florida, USA and also in Mexico.
Similar movies
Bad Boys
Bad Boys II
Beverly Hills Cop