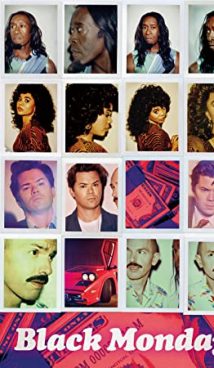 TV-MA
01 hours 00 minutes
Synopsis
The first season of Black Monday was an elegant fantasy about the Wall Street morals and reasons for the 1987 stock market crash.
Now we are looking at the events that unfurl after the international crisis.
While Blair and Dawn have everything settled, the former master of life, Maurice Monroe, vegetate in obscurity, but he is obsessed with the idea of clearing his name and returning to the top of the game.
Interesting Facts
Due to the coronavirus pandemic, the second season of Black Monday was divided into two parts. The first six episodes were shown in the spring of 2020, and the remaining four premiered in July.
To make the opening even more authentic, they show not a current version of the Showtime channel logo but the one from the time when each episode takes place.
The comedy actor Seth Rogen is an executive producer of Black Monday. Lately, he has been working on television a lot. His series Future Man and The Preacher have just finished, and in September the second season of the blockbuster The Boys is coming out where Rogen has also had a hand.
For his role in the first season of Black Monday actor Don Cheadle was nominated for an Emmy but lost to Bill Hader (TV-series Barry). Let's see if the second season will be as successful for Cheadle as the first one was.
Information
This is an American-made black comedy TV-series. The premiere of the second season took place on March 15, 2020 on the Showtime channel.
FAQ
What channel is behind the TV-series production?
Black Monday was filmed for the American channel Showtime.
Will there be a continuation?
The TV-series creators keep silence about the possible continuation of Black Monday.
More Like This
House of Lies
The Righteous Gemstones
On Becoming a God in Central Florida