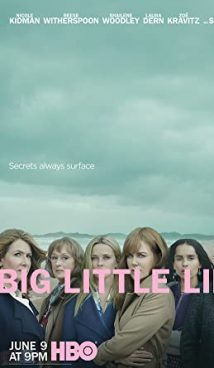 TV-MA
01 hours 00 minutes
Synopsis
Monterey, California. Here's a calm place where wealthy and prosperous Americans live. All the main characters of the series "Big Little Lies" are anyhow associated with the prestigious elementary school in which their children study. One day, during a charity reception in this very school a murder is committed, and the police start interviewing women who might probably witness or be involved in this crime. With every new question the real picture of what is happening in Monterey begins to emerge. Yet, there is only one thing left unclear: do the ladies speak the truth or do they tell little lies just to survive and cover up each other?
Trivia
"Big Little Lies" TV series was filmed for 'HBO' TV network. From the very beginning, the serial thriller was presented to the public at a special screening in Los Angeles on February 7, 2017, and then the series reached the screens. The first episode aired on February 19.
"Big Little Lies" triumphed on 'HBO' to win its second season. But it is not clear yet whether there will be another sequel. On the one hand, the channel has not officially closed the series: on the other hand, there was not announced that work on the third season is in the making.
In 2018, the TV show won four 'Golden Globe' awards at once: three for remarkable acting (Nicole Kidman, Alexander Skarsgård, and Laura Dern) and one for the 'Best Mini-Series'.
It is curious that "Big Little Lies" was conceived as a mini-series based on the novel by Liane Moriarty, but against the background of the TV show success the producers had to plead the Australian writer to come up with a plot for the second season.
About
American-made television TV series are based on the psychological thriller novel by Liane Moriarty. The first season of "Big Little Lies" was premiered on February 7, 2017 at a special screening in Los Angeles.
Related TV Series
Little Fires Everywhere
Sharp Objects
The Undoing
The Handmaid's Tale
The Morning Show
Tags: drama, screen adaption, murder, investigation, Reese Witherspoon, Nicole Kidman, Shailene Woodley, Alexander Skarsgård, Zoë Kravitz