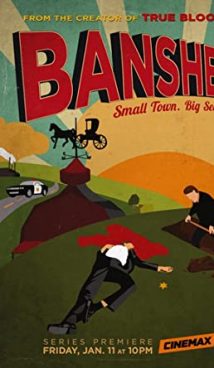 TV-MA
01 hours 00 minutes
Synopsis
The protagonist of the series "Banshee" was imprisoned for robbery for 15 years. Released from jail, he decides to start it all with a clean slate. But in a twist of fate, he happens to be the witness of the murder of Lucas Hood, a sheriff who was heading to a small Amish town of Banshee, in Pennsylvania, to take up his duties there. The ex-con and master thief assumes Hood's identity, takes his documents and the badge, and as nobody knew what the real Sheriff looked like, from now on he calls himself Lucas Hood, the Sheriff of Banshee County.
To crown it all, it is in Banshee lives the woman who he once stole jewelry with and who escaped from him with all those treasures. The newly-minted sheriff comes to stay in Banshee-town and even begins to fulfill the role assigned to his new respected title.
Some describe "Banshee" as one of the most brutal TV series of the present time, in which, however, amid the testosterone-driven frenzy one can find it a great drama.
Trivia
The series "Banshee" was launched on the American channel "Cinemax" on January 11, 2013. The second season was released right next year. In total, "Banshee" lasted for four years and ended on May 20, 2016 with the episode "Requiem". A total of 38 episodes were released, combined into four seasons.
Curiously that a fully-equipped fitness department was engaged on the filming location of the series "Banshee" just to keep the actors in excellent physical shape.
The series' cast list was crowned by the awesome actor Antony Starr who, however, couldn't show off his rich filmography at that point. In 2019, though, it all changed when Starr brilliantly played the psychopathic superhero named Homelander in the sci-fi satirical series "The Boys".
About
American-produced TV series filmed in the genre of crime drama. The premiere of the first season of "Banshee" series originally aired on January 11, 2013 on the "Cinemax" TV channel.
Related TV Series
Sons of Anarchy
The Punisher
Prison Break
Taboo
Tags: drama, criminal, thriller, action, murder, violence, small town