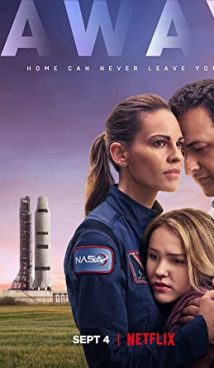 Synopsis
The fall season begins with a big Netflix premiere, the TV-series Away, about the colonization of the Solar System.
An international team of astronauts, ready to conquer Mars, departs from Earth in a spaceship. The red planet beckons the space conquerors, but in their hearts are longing for their homes and families that they left behind for a great goal. The expedition is led by a strong woman Emma Green, whose role was played by the wonderful actress Hilary Swank, winner of two Oscars.
Interesting Facts
The whole series was filmed in Canada, in a studio located in Vancouver.
Chris Jones's article in Esquire inspired showrunner Andrew Hinderaker to create Away. The article of the same name was published in 2014 and talked about a future expedition to Mars.
The series' filming process lasted six months and ended in February 2020, just before the start of the worldwide quarantine.
In recent years, the plot of space conquest has been an important part of pop culture. There were such films as The Martian and First Man, and TV-series like the pseudo-documentary series Mars, the quasi-historical For All Mankind, and the satire Space Force.
Away's Executive Producer is the director Matt Reeves, who is filming now the new Batman movie with Robert Pattinson portraying the title character.
The spaceship crew is international. It has representatives from the United States, Great Britain, India, China, and Russia.
The TV-series Away will be available to all Netflix subscribers on September 4.
Information
This is an American-made Sci-Fi drama TV-series.
The premiere of the first season will take place on September 4, 2020 on Netflix.
More Like This
For All Mankind
Mars
The First