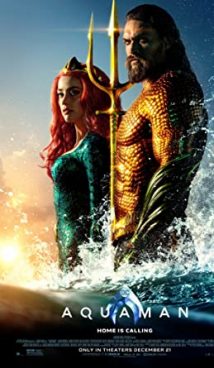 PG-13
02 hours 23 minutes
English, Russian, Maori, Italian

6.9
Synopsis
The DC Extended Universe features a solo film about Aquaman, who is like Superman – but in water.
Arthur Curry, the fruit of the love of a simple lighthouse keeper and Queen of Atlantis, learns the secret of his origin when his mother is forced to leave her family and return to the bottom of the sea.
Arthur begins his studies with Nuidis Vulko, who not only makes him a mighty warrior, but also tells young man about the underwater world.
Now prepared, Arthur can go to Atlantis where he will meet with his half-brother, find new friends and enemies, and also save the planet once again.
Interesting Facts
"Aquaman" was first presented to the public on November 26, 2018 at a special show in London. However, the world premiere of the film took place on December 12, 2018. Following the digital release on March 6, 2019, "Aquaman" is available for viewing on the major streaming platform.
"Aquaman" has proven to be a very successful project in terms of the box office. Produced for $ 160 million, the film grossed more than a billion dollars worldwide – a new record for a DC Extended Universe movie. As of the end of 2020, "Aquaman" ranks 23rd in the history of cinema highest-grossing films ranking.
In early December 2018, Warner Bros. studio announced plans to shoot a sequel. At the moment, the shooting of the film is in full swing – it will be premiered in 2022. As it became known, in addition to the main character, the main villains will also return to the film. It is noteworthy that a spinoff is planned for "Aquaman", which will be filmed in a slightly different format – it will be a horror about the monsters from the Trench, which viewers have already seen in the original film.
James Wan, who directed "Insidious", "The Conjuring", and "Saw", the multi-million-dollar horror film franchise, is directing "Aquaman". Although James has a busy schedule, he will definitely be returning for the sequel. Notably, when Warner Bros. studio invited Wan to work on DC CU projects, he was given the choice between "The Flash" and "Aquaman", and the acclaimed director chose Aquaman because the character is a failure.
About
Aquaman is an Australian-American co-production film based on DC comics in the fantasy genre.  The world premiere of Aquaman took place on November 26, 2018 in London.
Related Films
Insidious
The Conjuring
Superman
Tags: comic, DC, sea, trident, superhero, Atlantis, Jason Momoa, Willem Dafoe, Nicole Kidman