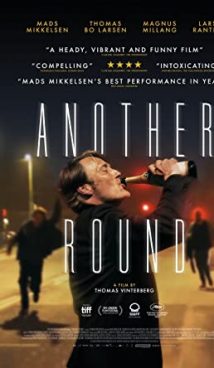 Synopsis
Four longtime friends decide to conduct an amazing experiment: they drink a lot of alcohol on workdays to test the theory that it can increase the overall pleasure of life. It's not hard to guess what the daily consumption of expensive alcohol can do to the rushing souls of the Danes. Beginning with ease and curiosity, the experiment exposes people's wildest emotional problems.
Did You Know?
Another Round was originally supposed to premiere at the Cannes Film Festival in May 2020, but due to the coronavirus epidemic, the film was first shown to viewers in the fall in Toronto. The Danish premiere of the movie took place on September 24, 2020.
Thomas Vinterberg is one of the most important Danish directors of our time. Together with Lars von Trier, he came up with the Dogme 95 manifesto, which influenced European cinema. Interestingly, Vinterberg was the author of the first film based on the new concept. Festen-Dogme # 1 was released in 1998. By the way, the director's penultimate film, released in 2018, is called Kursk and is dedicated to the tragedy that happened to the crew of the Russian submarine.
The Danish actor and audience favorite Mads Mikkelsen, who starred in Another Round, said that before filming he was inspired by a YouTube video where Russians drink vodka. To prepare for filming, the four leading actors and the director drank a lot together, filming what was happening on video. And during the filming of Another Round, alcohol was banned.
Information
A Danish-produced drama film. The world premiere of Another Round took place on September 12, 2020 at the Toronto Film Festival.
More Like This
Kollektivet (The Commune)
Far from the Madding Crowd
Submarino
Tags: Denmark, Drama, Alcohol, Experiment, Mads Mikkelsen