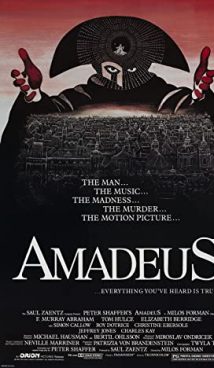 English, Italian, Latin, German

8.3
Synopsis
The classic film about the famous composer follows the myth of Mozart and Salieri. On the one hand, the plot is centered on the talent of Wolfgang Amadeus Mozart, a frivolous, brilliant, addicted composer. On the other hand, there is a hardworking Antonio Salieri, who, thanks to his daily work, finally achieves the post of court composer at the Habsburg throne. As the legend tells, Salieri was envious because Mozart got everything too easy, and this is what led to the death of one composer and the madness of another.
Interesting Facts
Amadeus premiered on September 6, 1984 and was released two weeks later.
Amadeus is based on the play of the same name by the British playwright Peter Schaeffer, who, in turn, was inspired by Pushkin's play Mozart and Salieri, as well as the opera by Rimsky-Korsakov.
Even though most of the action of the film takes place in Vienna, it was filmed in Prague, the hometown of the director Milos Forman. One detail is interesting: Mozart did live in Prague, where he finished his opera, Don Giovanni. This opera was first shown at the Prague Estates Theater on October 29, 1787. It was here that Milos Forman filmed the premiere of Don Juan. By the way, this theater is the only one in the world that has remained unchanged since Mozart performed there.
Amadeus became one of the highest-profile films of 1984, not to mention the number of awards it earned. Amadeus got a French Cesar, three Italian David di Donatello, four British BAFTAs, four Golden Globes, as well as eight Oscars, including awards for best film, direction, male lead, and an adapted script.
Information
This is a co-production biographical drama film based on the play of the same name by Peter Schaeffer.
The world premiere of Amadeus took place on September 6, 1984, in California.
More Like This
The People vs. Larry Flynt
One Flew Over the Cuckoo's Nest
Valmont
Tags: music, Mozart, Salieri, drama, pseudo-history, Vienna, classical music, Milos Forman