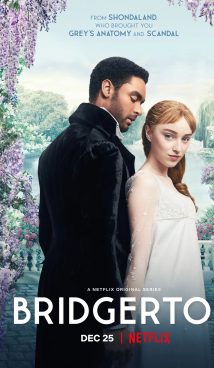 Synopsis
Netflix is ​​expanding its library and the range of its subscribers.
This time, the streaming giant is releasing a screen adaptation of Olivia Queen's romance novels about the Bridgerton family.
London, the beginning of the 19th century, the so-called era of the Regency. We see an endless sea of balls, receptions, and other entertainments of high society. At the center of the story is the vast Bridgerton family, each member of which goes through trials of love and honor. Tragedies and hand-wringing included.
Interesting Facts
All episodes of the first season of Bridgerton will be released on the same day — December 25, 2020. It is not yet known how critics will receive the series and whether Bridgerton will have a sequel. However, it is worth noting that the series of books on which the TV-series is based includes nine novels. The last of them came out in 2013.
The narrator's voice in the series belongs to Julie Andrews, a classic Hollywood actress who became a star in the 1960s, starring in the cult films Mary Poppins and The Sound of Music.
One of the authors of Bridgerton is Shonda Rhimes, the powerhouse of American television. She gave us such milestone series as Grey's Anatomy, Scandal, and How to Get Away with Murder. Netflix announced a partnership with Shonda a few years ago, and, according to recent reports, the TV-producer is currently working on a dozen projects for the streaming giant. In particular, besides Bridgerton, there is a series called Inventing Anna, based on the real story about the Russian fraudster Anna Sorokin (aka Anna Delvey).
Information
This is an American-made melodrama TV-series based on the series of novels by Olivia Queen.
The first season of Bridgerton will premiere on December 25, 2020, on Netflix.
More Like This
Emily in Paris
The Undoing
The Queen's Gambit
Tags: romance, love, drama, history, past, UK, romance novels, TV adaptation, Olivia Queen