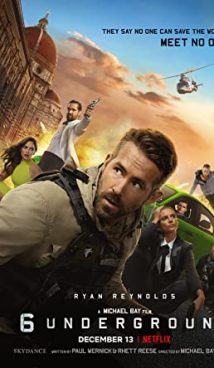 English, Turkmen, Cantonese, Italian, Spanish, Ukrainian, French

6.1
Synopsis
A certain unnamed American billionaire and philanthropist decided to help the residents of distant Turgistan, a country in the Middle East. Rovach Alimov, the dictator of Turgistan, who maintains his bloody regime with the help of brutal repression, actually made the local residents his hostages.
Faked his own death, the billionaire gathers a detachment of mercenaries. The team consisted of six people, and each team member is named with a specific number. Of course, the billionaire has assigned himself number one. The other five mercenaries are a doctor, a driver, a former agent, a hitman and a thief. The detachment of nameless will have to change the situation in Turgistan, overthrow Alimov and make Murat, the dictator's brother, the country's new president.
Interesting Facts
Premiered on December 13, 2019, "6 Underground" is a film commissioned by the Netflix streaming platform.
Michael Bay, known for his high-profile but rather pointless films, is the director of this motion picture. It was Bay who directed five films about Transformers. "Robocalypse", a science fiction film about a new generation of androids, is the next project of the special effects master.
"6 Underground" is Michael Bay's first work commissioned by a streaming service. Incidentally, the detachment of mercenaries in the film fly in a private jet that Bay owns.
With a budget of $ 150 million, this film became the second most expensive Netflix project, behind only "The Irishman", Martin Scorsese's project ($ 175 million).
About
"6 Underground" is an American-made action film that was premiered on December 13, 2019.
Related Films
Extraction
Deadpool
Spenser Confidential
Tags: mercenaries, Middle East, dictator overthrow, detachment