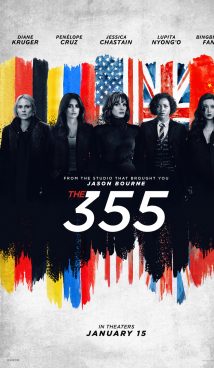 Synopsis
CIA agent Mame (Jessica Chastain) creates a team of strong and dangerous women, which – in addition to the American woman – includes: former MI-6 employee and hacker Khadija (Lupita Nyong'o), German woman Marie (Diane Kruger) and Colombian psychologist Graciela (Penelope Cruz). Trying to hunt down a secret weapon, the heroines notice that their every step is being followed by the Chinese woman Lin Mi (Fan Bingbing). Calling themselves the 355 Team, the women are trying to save the world.
Interesting Facts
The 355 will debut on January 14, 2021 in the Netherlands. American cinemas will start showing the film the next day.
The idea for a film about a female team of agents as a response to the "Mission: Impossible" and "Bond" franchises came to Jessica Chastain's mind. The actress shared this idea with Simon Kienberg, a renowned director and producer, back in 2018 – so, the motion picture was put into production a little later.
Marion Cotillard, who was included in the original plot supposed to play the character representing the French Intelligence Community, was unable to participate in the filming due to the tight schedule. Diane Kruger, who played the German agent, was cast instead of Cotillard.
With the release of promotional materials for "The 355", a scandal took place on social networks. Penelope Cruz, a Spanish actress who played a Latin American psychologist, shared a photo of her character in front of the Colombian flag – which resembles the flag of Armenia – on Instagram. Since this happened in the midst of another conflict in Nagorno-Karabakh (October 2020), some Armenian social media users thanked Penelope for her support.
"355" is the codename for a female spy in the 18th century US Revolutionary War. A member of the spy network, this woman still remains unnamed.
About
The 355 is a US-China co-production thriller film. The movie will premiere on January 14, 2021.
Related Films
Ava
Ocean's 8
Charlie's Angels
Tags: female agents, intelligence, mission, action, thriller, Jessica Chastain, Penelope Cruz, Lupita Nyong'o, Diane Kruger