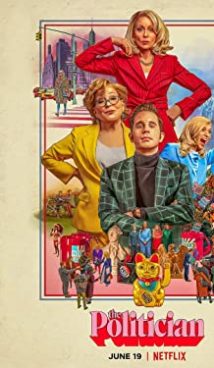 Synopsis
This television series follows the political career of Peyton Hobart (Ben Platt), an extremely ambitious young man who began his journey to the Oval Office in early childhood.
After the events of the first season took place, he moved from sunny California to New York to continue his ascent up the political ladder. With a goal of winning a Senate seat, Peyton must squeeze out Didi Standish (Judith Light), a political shark with the backing of campaign head Hadassah Gold (Bette Midler).
You will see a dirty confrontation in neat suits taking place in beautiful interiors – and no one can guess how it will end.
Interesting Facts
Unfortunately, in the second season of the Politician, the TV series lost some of its original star cast. You won't see the gorgeous Jessica Lange – but now Batt Midler, an amazing comedy actress, rules the show.
Brad Falchuck, one of the television series showrunners, is married to Gwyneth Paltrow, who was on the cast of the first season. Although she appears in films rarely, Brad convinced the actress to star in the second season. Gwyneth agreed on the condition that she would spend no more than a few days on filming.
Originally, there was a request for two seasons of the show. According to Ryan Murphy, if the third season happens, it will be dedicated to Peyton's struggle for the presidency of the United States. However, it takes several years for the leading actors to become mature. As known, Ben Platt, the leading actor in the television series, is only 26 years old.
About
Politician is an American tragicomedy TV series. The second season was premiered on June 19, 2020 on Netflix.
F.A.Q.
Q: On which channel is the series shown?
A: Both seasons of the Politician series were filmed for the Netflix streaming service.
Q: Will the series be renewed?
A: While Netflix hasn't made any announcements about a renewal of the series, judging by the season 2 finale and showrunner contract, a third season is quite possible.
Related Shows
Hollywood
American Crime Story
American Horror Story