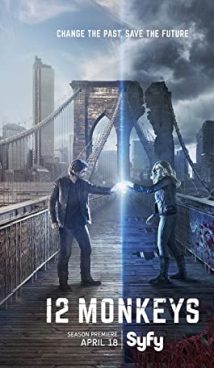 English, French, German, Chechen, Japanese, Czech

7.7
Synopsis
In 2015, bacteriologist Cassandra Riley meets James Cole, a very strange young man who claims to have come from the future. According to him, the apocalypse will soon happen on Earth, as an extremely dangerous virus will destroy almost the entire population of the planet. Using technologies not yet available to us, the people of the future sent Cole into 2015 to prevent the end of the world. The problem is that people in the future do not know where and how the epidemic began. Now, Cole – who has joined forces with Cassandra – must find out who was 'patient zero'. They will have numerous jumps in time and very dangerous adventures. However, will they be able to save humanity?
Interesting Facts
The TV series was premiered on January 16, 2015 on the SyFy. Aired for four seasons, the "12 Monkeys" TV show ended on July 6, 2018 with a two-part finale released under the title "The Beginning".
The TV show is a serial remake of Terry Gilliam's sci-fi thriller of the same name premiered in 1995, 20 years before the release of the TV series first episode. Actress Madeleine Stowe, who played one of the main roles in the film, made a cameo appearance in the final episode of Season 2.
Aaron Stanford, who played title role in "12 Monkeys", after the TV show was canceled, starred in "Fear the Walking Dead", another post-apocalyptic TV series.
About
12 Monkeys is an American-made TV series based on the fantasy thriller film of the same name by Terry Gilliam. The first season of the TV show premiered on January 16 on the US channel SyFy.
Related Shows
Travelers
Dark Matter
Continuum
Timeless
Under the Dome
Altered Carbon
The Last Ship
Tags: drama, fantasy, film remake, adventure, apocalypse, time traveling