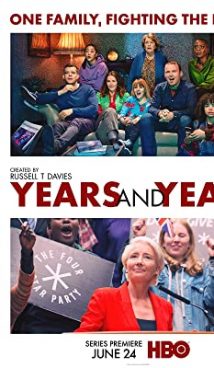 TV-MA
01 hours 00 minutes
Synopsis
It is a rather unusual series, where we observe the fate of the entire planet through the life of a British family. The plot's timeline begins now, in 2019, and we will follow the unpleasant and sometimes horrific changes in our world. Populism, intolerance towards others, population control — these are the topics the creators of the series want to show us. Sometimes it seems like "Years and Years" is an episode of "Black Mirror" extended for the whole season.
We are going through a very difficult fifteen years with the Lyons, from 2019 to 2034. How Vivienne Rooke, the prime minister of populist views, came to power, military conflicts, the European Union's collapse, repressive methods of the government — the Lyons will have to go through all this. Sometimes it seems that our world is so close to what showrunners show us in "Years and Years."
Interesting Facts
– After comparing "Years and Years" and "Black Mirror," it is interesting to note that the amazing actor Rory Kinnear, who played one of the main roles in "Years and Years," appeared in the very first episode of "Black Mirror." He played the role of the prime minister who had to copulate with a pig at the terrorists' request. By the way, this year we will see Kinnear in the series "Penny Dreadful: City of Angels," and he will appear traditionally in the new James Bond movie "No Time to Die."
– The "Years and Years" showrunner Russell T. Davis is one of the producers responsible for the legendary Doctor Who series return.
Information
This is a British fantastic drama TV-series.
The premiere of the Season 1 took place on May 19, 2019 on the British BBC channel.
FAQ
– What channel is behind the TV-series production?
"Years and Years" is a project of the British BBC and American HBO channels.
– Will there be a continuation?
No. "Years and Years" was originally planned as mini-series.
More Like This
Black Mirror
Unorthodox
Doctor Who