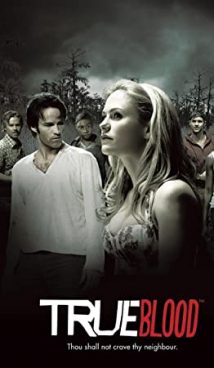 English, German, Swedish, Russian

7.8
Synopsis
After scientists invented artificial blood, the current world has undergone significant changes. Creatures called vampires reveal themselves to society at this moment. They stated that they can now peacefully coexist with people by eating a surrogate. Sookie Stackhouse, a young waitress from a tiny town in Louisiana, is especially clear about the fact that the world will never be the same – especially after she met the vampire Bill Compton. This meeting gives impetus for the further development of the TV series a little bit crazy plot. Following the vampire, she faced other bloodsuckers, werewolves, fairies, witches, voodoo witches and other wickedness.
"True Blood" is a wonderful postmodern TV show that – based on casual romantic supernatural stories – tells an incredibly compelling story to viewers.
Interesting Facts
The first episode of the TV series was released on September 7, 2008 on HBO. Renewed several times, "True Blood" was canceled on August 24, 2014 following the release of the final episode of Season 7.
Alan Ball, TV producer best known for the cult TV series "Six Feet Under", is the showrunner for "True Blood". "Banshee", a multi-part thriller, and "Here and Now", a mystical TV series that only lasted one season, are Ball's follow-up projects.
Alexander Skarsgard, a Swedish actor, plays one of the roles in a TV series. Participation in "True Blood" is the start of his acting career in America.
In 2020, HBO announced the start of work on a remake of the TV show True Blood. While Roberto Aguirre-Sacasa, creator of "Riverdale" and "Chilling Adventures of Sabrina", is the showrunner of the new TV series, Alan Ball, the author of the original TV show, served as an executive producer.
Anna Paquin and Stephen Moyer, the main actors of the TV show, started dating in real life. They got married shortly before the premiere of the season 3.
About
True Blood is an American-made mystical drama TV series based on the novels by Charlene Harris. The first season of the TV show was released on September 7, 2008 on HBO.
Related Shows
The Vampire Diaries
Heroes
Six Feet Under
Penny Dreadful
Tags: mysticism, black comedy, horror, drama, romance, postmodern, fantasy, adventure, supernatural, vampires, werewolves, Alan Ball, Anna Pakuin, Alexander Skarsgard