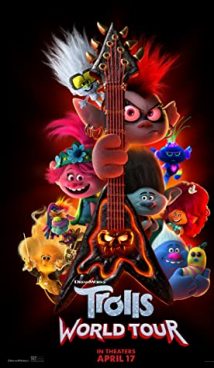 Synopsis
The Trolls World Tour takes viewers back to the acidic world of troll dolls. The carefree life of the singing multicolored creatures ends when Rox, the queen of hard rock, appears on the horizon. She wants to implement her insidious plan to destroy all music, leaving only hard rock. Queen Poppy and Branch, the main characters of the cartoon film, join their efforts to preserve the genre diversity of music. Throughout the movie, they will perform about a dozen new songs.
Interesting Facts
The Trolls World Tour has caused a serious conflict between the Universal studio and the AMC, American network of movie theaters. The reason is that the picture premiere was disrupted by the coronavirus epidemic. Despite the current agreement with AMC, Universal decided to make the animated film available for viewing on streaming services without waiting for the opening of AMC cinemas.
Queen Rocks, one of the main characters of the cartoon, is voiced by Rachel Bloom, the YouTube star also known for her role in the "Crazy Ex" musical series.
The Trolls World Tour heroes are voiced by many other famous people – Ozzy Osbourne, Mary J. Blige, Kelly Clarkson, Sam Rockwell, Jamie Dornan and Zooey Deschanel.
Troll dolls were invented in Denmark 60 years ago. The first toy with lambswool hair was created by Thomas Dam, a carpenter.
Troll dolls have appeared in some form in various animated films – "Toy Story", "Shrek" and even in the "Guardians of the Galaxy" blockbuster.
The Trolls World Tour is available for viewing on Apple Tv, Google Play and other streaming services.
About
The Trolls World Tour is an American-made cartoon based on a series of musical comedy dolls. The world premiere took place on March 12, 2020 on streaming services.
Related Films