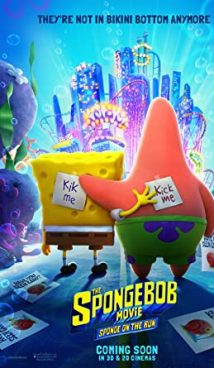 Synopsis
This is a fresh portion of adventures of these beloved and extremely crazy characters.
This story tells about Poseidon, the lord of the depths of the sea, who personally kidnaped a snail Gary, SpongeBob's pet. Our square hero together with his best friend, Patrick Star, goes to Atlantic City on a rescue mission to safe Gary.
The American-made animated film is shot in the adventure comedy genre.
 Interesting facts
SpongeBob on the Run is a 3D animated film as opposed to the original animated series.
This is the third full-length animated film of SpongeBob animated series. Tim Hill is the film director who has been working on this film from the very first episode.
The film creators promise to tell how SpongeBob and Patrick Star got to know each other in the Coral Camp.
By the way, this year Nickelodeon channel will broadcast spin-off animated series about this camp. However, the idea of such show caused the barrage of indignation from the viewers, since Stephen Hillenburg, the author of the original animated series who passed away about a year and a half ago, was initially antipathetic to any idea of spin-offs.
The world-famous singer Cyndi Lauper participated in writing songs for the animated film. By the way, she also worked on SpongeBob SquarePants: The Broadway Musical.
FAQ
Whose voices will be sounded in the English animated film?
Voices of such celebrities as Snoop Dogg, Keanu Reeves and Aquafina will be sounded in full-length animated film in addition to the actors who constantly voice the SpongeBob main characters.
Related Films
SpongeBob SquarePants
The SpongeBob Movie: Sponge Out of Water
Soul