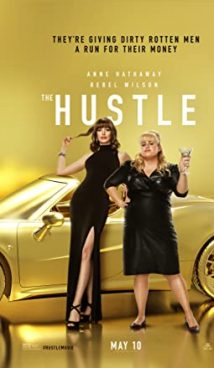 PG-13
01 hours 33 minutes
English, German, Dutch, Danish, French, American Sign Language

5.4
Synopsis
Two swindlers meet on a luxury train somewhere on the French Riviera. One of them is awkward Penny, the other is the beautiful Josephine. Despite the fact that both are engaged in not very honest matters, there is a chasm between women. Penny asks Josephine to teach her all the tricks. The sophisticated fraudster agrees, but soon the ladies quarrel and conclude an agreement: the one who first turns on the young billionaire will receive 500 thousand dollars. The loser will have to leave France forever. Fraudsters enthusiastically join the fight, because dishonest methods are their strong point.
Did You Know?
The Hustle went live on May 8, 2019. From September 2, 2019, the film can be viewed on streaming platforms.
The film is a remake of two classic comedies at once. This is the 1964 Bedtime Story with Marlon Brando and the 1988 Dirty Rotten Scoundrels with Steve Martin and Michael Caine. In the new version, following the trends, the main roles are given to women.
Despite the fact that the action of the movie takes place in the south of France, The Hustle was filmed in the Balearic Islands (Spain).
The Hustle is the feature-length debut of director Chris Addison. Prior to that, he worked on TV series and directed TV shows such as Veep and Breeders.
Australian actress Rebel Wilson has appeared in films such as the successful Jojo Rabbit and the disastrous musical Cats. By the way, at the beginning of 2020, the actress appeared in public, significantly thinner. She lost as much as 20 kilograms, motivating herself by the fact that she wants to be in good shape for her fortieth birthday.
Information
American-made crime comedy movie. The world premiere of the film took place on May 8, 2019.
More Like This
Dirty Rotten Scoundrels
Heartbreakers
The Spy Who Dumped Me
Tags: Europe, The Hustle, Anne Hathaway, Rebel Wilson, Comedy, Adventure, Crime