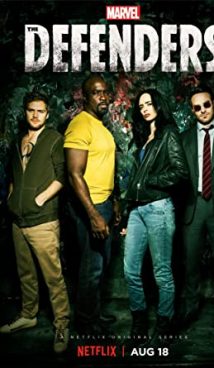 Synopsis
This TV series shows that superhero crossovers can exist not only in the world of "The Avengers" – with their huge box office – or other blockbusters. Some studios let their characters to meet on TV. "The Defenders" is the apotheosis of Marvel's collaboration with the Netflix streaming platform. Initially, several TV series were released, each of which is dedicated to a single character of the superhero team. However, in the new TV show, Daredevil, Jessica Jones, Luke Cage and Iron Fist join forces to challenge a powerful evil order called The Hand.
Interesting Facts
"The Defenders" TV series premiered at Comic Con on July 22, 2017. All episodes of the TV show were made available for viewing on 18 August 2017 on the Netflix streaming platform.
It is noteworthy that it was originally planned to shoot one season of the TV series dedicated to each character separately, ending the story with the release of the "Defenders" crossover. However, each of the series became a real hit, significantly expanding the television universe. As a result, "Luke Cage" and "Iron Fist" were renewed for a second season, while "Jessica Jones" and "Daredevil" lasted three seasons. Also "The Punisher", the TV series dedicated to the character of the same name, was presented to viewers. Appearing as a supporting character in "Daredevil", the Punisher was very popular with the audience.
Sigourney Weaver, an excellent actress, played one of the villains in "The Defenders". Notably, she had the opportunity to be part of the MCU prior to the TV series. Having seen her as the mutant Emma Frost in "X-Men: The Last Stand", director Brian Singer soon left the project himself.
About
The Defenders is an American-made superhero thriller TV series based on Marvel comics. Season 1 of the TV show premiered on July 22, 2017 at San Diego Comic Con.
Related Shows
Daredevil
Jessica Jones
Luke Cage
Iron Fist
The Punisher
Tags: comic, superheroes, crossover, thriller, fantasy, Marvel, drama, action, Daredevil, Jessica Jones, Luke Cage, Iron Fist, Sigourney Weaver