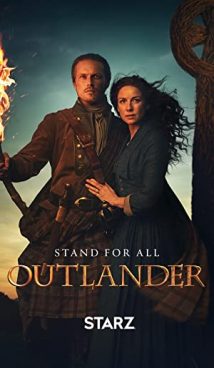 TV-MA
01 hours 04 minutes
English, Scottish Gaelic

8.4

USA
Synopsis
It all starts with the fact that immediately after the Second World War, in 1945, Claire Randall (Caitriona Balfe), travels to Scotland with her husband Frank. During a visit to the Druid Sanctuary, she touches a strange stone with her hands and falls into the past. She comes to life in 1743 in the period of bloody battles between the British and Scots. And this is just the beginning…
Over the past four seasons, Claire met a new love, a very handsome Scot Jamie (Sam Heughan), got pregnant several times, traveled through time more than once, visited Paris, crossed the Atlantic Ocean, faced the bloodthirsty Indians and settled in the New World.
In the fifth season, our heroes live in North Carolina, but they only dream of a quiet life. There are will be many tears, manly deeds, intrigues and love up ahead.
Interesting facts
The fifth season is based on Diana Gabaldon's novel The Fiery Cross from the Outlander cycle. The sixth season based on A Breath of Snow and Ashes, the next book in the series, is also contemplated. In total, the book cycle includes eight books.
By the way it was the wife of the showrunner Ronald D. Moore who persuaded him to shoot the TV series being a passionate admirer of the book cycle.
Information
The American-made TV series is based on a series of novels by Diana Gabaldon and shot in the fantastic melodrama genre.
The fifth season premiered on February 14, 2020 on the Starz channel.
You can watch the series trailer online on the website without registration. You can also find interesting facts about the series.
 FAQ
What channel is producing the series?
Outlander was commissioned by the Starz channel.
Will there be a sequel?
The series has already been officially extended for the sixth season.
Related Series
Poldark
A Discovery of Witches
Vikings
Tags
fantasy, fiction, melodrama, time travel, adventure