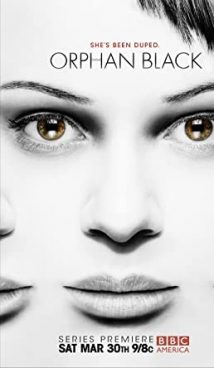 Synopsis
After the orphan-girl Sarah got into a very unpleasant situation, she had to flee from her city. A few years later, Sarah returns home, and all of a sudden, on the local railway station's platform she witnesses a suicide of another girl who… looks like her as a twin. Whilst the police take away the dead body, Sarah steals the documents of the deceased, yet unaware of what a kaleidoscopic mystery she is entering. After a while, Sarah meets other doubles of her here and there, now realizing that she once became a part of a cloning experiment. Finally, all the clones meet together and team up to unravel the mystery of their origins.
The intriguing and gripping turns of the "Orphan Black" series' plot is crowned with starring of Tatiana Maslany who instantly attracts attention with her awesome acting. She plays all the clones, and does it brilliantly.
Trivia
The series "Orphan Black" was filmed as a joint project of "BBC America" ​​and the Canadian channel "Space". The first episode of the fantasy thriller series was released on March 20, 2013. "Orphan Black" ran for five seasons and ended on August 12, 2017.
Tatiana Gabriele Maslany played a dozen clones in the series and became a real decoration of the "Orphan Black". For her awesome acting in the TV show, she was nominated in 2014 for a 'Golden Globe' award. Maslany also received an 'Emmy' award, becoming the first Canadian actress to win the award for 'Best Actress' in a Drama Series. After the finale of "Orphan Black" Tatiana adorned with her appearance the mystery TV series "Perry Mason" starring as Sister Alice. After that the actress was cast in the lead role of Jennifer Walters (She-Hulk) for the 'Disney+ TV' series "She-Hulk", set in the Marvel Cinematic Universe. The series is scheduled for release in 2022.
About
Canadian-made television series filmed in the fantasy thriller genre. The premiere of the first season of the series "Orphan Black" took place on March 20, 2013 on the Canadian channel "Space" and the American "BBC America".
Related TV Series
Sense8
The OA
Orange Is the New Black
Altered Carbon
Tags: drama, science-fiction, action, thriller, clones, investigation, Tatiana Maslany