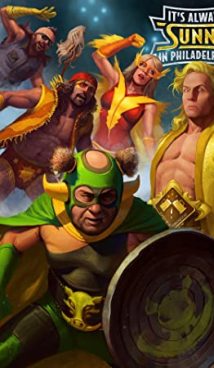 Synopsis
The TV show is about everyday life and holidays at Paddy's Irish Pub located in the south of Philadelphia. Five not the most pleasant characters who often get involved in various troubles are at the center of the plot of the television series. The adventures of Charlie, Dennis, Deandra, Mac and Frank turn into a very hilarious comedy, as it is much more enjoyable to laugh at characters that are not attractive to the viewer.
Interesting Facts
The first season of the TV show was released on August 4, 2005 on FX TV channel. "It's Always Sunny in Philadelphia" has been on air for 14 seasons. Season 15 will be released in 2021 – however, the exact date of the premiere has not yet been announced.
The main cast of the TV show includes several married couples – Charlie Day (Charlie) and Mary Elizabeth Ellis (waitress), Rob McElhenney (Mac) and Caitlin Olson (Deandra).
Rob McElhenney, Glenn Howerton and Charlie Day, creators of the sitcom, filmed the pilot of the TV show with a non-professional camera and sent it to various TV channels. Interested in a new project, FX initiated the start of filming. Curiously, the pilot series budget was only $ 85, most of which was spent on the purchase of video cassettes.
Nominated for an Emmy three times, the TV series has won the Award for Best Stunt Coordination in a TV Comedy Show each time.
Renewed for a 15th season, the sitcom has earned the status of longest-running live-action American comedy series in TV history.
About
It's Always Sunny in Philadelphia is an American-made comedy TV series. The first season of the TV show premiered on 4 August 2005 on FX.
Related Shows
Arrested Development
How I Met Your Mother
Seinfeld
The Office
Community
Tags: comedy, sitcom, Irish pub, Danny DeVito