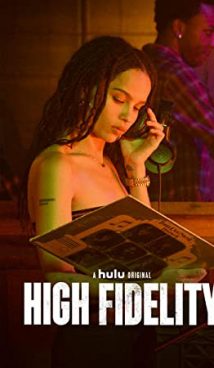 Synopsis
Robin Brooks (Zoë Kravitz) is a music fan and the owner of a vinyl store in Brooklyn. She's also good at destroying her personal relationships, keen on making a Top 5 out of everything – may it be a vinyl she wants or men who made her suffer. Robin is all in all a typical example of a kidult, representing immature bohemia that are unable to figure out who they are in life.
'High Fidelity' is a free adaptation of the cult novel 'Hi-Fi' by Nick Hornby. The series' producers changed the gender of the main character of the book and the time of events (from 1995 to 2020). As a result, we will marvel at a very attractive cast of the modern New York society with its Saturday brunches, parties in the nearby bars and slumbrous record stores.
An important character of the series is music. It is almost never interrupted. Moreover the soundtrack includes dozens of the most famous names of world pop music.
Interesting facts
The series was originally planned for broadcasting at the new Disney + streaming platform, but then it was taken by Hulu Channel that has a more mature audience.
'Hi-Fi' is not the first film adaptation of Nick Hornby's novel. In 2000 a film called 'High Fidelity' was released. Lisa Bonet, the mother of Zoë Kravitz, also starred in this film.
We will see Zoë Kravitz starring Catwoman in the new film based on Batman comic book.
Blondie lead vocalist, Deborah Ann Harry, appears in one of the episodes. She plays the role of a ghost in Rob's apartment, showing up with a glass of wine as 'Heart of Glass' is playing in the background.
FAQ
What channel produces the series?
Hulu Channel.
When was the first season released?
The whole season is available as of February 14, 2020.
More like this
Dollface
Girls
Zoey's Extraordinary Playlist
Tags: melodrama, breakup, music, vinyl, New-York, book adaptation