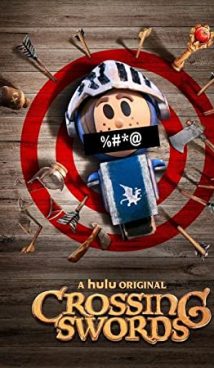 Synopsis
In the center of the animated series Crossing Swords' plot is the peasant Patrick, who, by the will of fate, becomes a squire and goes to serve in the royal castle. The young idealist is shocked by the situation in the monarchs' nest, but he cannot return to his home because of his greedy relatives who commit all sorts of criminal affairs. Patrick has to find himself and take his place in this puppet kingdom.
Deliberately done in a very primitive manner, Swords Crossed is full of bawdy jokes, obscene language, and references to the modern culture.
Interesting Facts
Famous actors such as Nicholas Hoult, Luke Evans, and Seth Green have voiced the main characters in Crossing Swords.
The Crossing Swords creators, John Harvatine IV and Tom Root, are also responsible for Robot Chicken, the famous animated series that has won six Emmy awards. By the way, you can watch the tenth season of this madness right now.
Crossing Swords is the case of the animated series being completely rejected by critics, but enjoyed by the audience. Quite a reason to watch this series and make your own opinion of the show.
Information
This is an American-made comedy animated series.
The premiere of the first season took place on June 13, 2020 on the Hulu channel.
FAQ
What channel is behind the series production?
Crossing Swords animated series was filmed for the American channel Hulu.
Will there be a continuation?
Yes. The producers renewed the animated series for its second season right after the first one came out.
More Like This
Solar Opposites
Robot Chicken
Duncanville