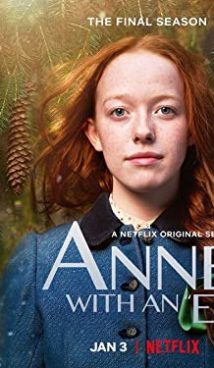 TV-PG
01 hours 00 minutes
Synopsis
The TV series "Anne with an E" takes place in 1896. Matthew and Marilla, adult brother and sister living on the Canadian island of Prince Edward, decide to adopt a boy to help them on the farm. However, the shelter sent them a girl. Anne is a thirteen-year-old girl with a rich inner world. However, she often finds herself in various kinds of situations. "Anne with an E" TV series is a beautifully filmed story about growing up that makes the viewer believe in goodness and love.
Interesting Facts
The "Anne with an E" TV series was released on March 19, 2017 on CBC Television. Two months later, the TV show premiered on Netflix. Renewed for a second and third seasons, the TV series was canceled after the final episode released on November 24, 2019.
Outraged by the cancellation of their favorite TV show, fans have launched a campaign to renew it on Twitter. Curiously, the #RenewAnnewithanE hashtag has been used over 1 million times.
"Anne with an E" is a TV series based on "Anne of Green Gables", a novel by Canadian writer Lucy Maud Montgomery. Released in 1908, the novel eventually became a classic book on growing up. Over time, Montgomery wrote seven more novels about Anne, covering the main chatacter's life. "Rilla of Ingleside", the final novel in the series, is about Anne's daughter.
Since the publication of "Anne of Green Gables" until now, this novel has been filmed dozens of times. Notably, "Akage no An", an anime based on the book, was released in 1979.
Quotes from classic novels are used as titles for episodes of the TV show – Season 1 references Charlotte Bronte's "Jane Eyre", Season 2 references George Eliot's "Middlemarch", and Season 3 references Mary Shelley's "Frankenstein".
About
Anne with an E is a Canadian-made television series based on Lucy Maud Montgomery's novel "Anne of Green Gables", a growing-up drama. The first season of the TV show premiered on March 19, 2017 on CBC Television Canada.
Related Shows
Anne of Green Gables (1985)
A Series of Unfortunate Events
Julie and the Phantoms
The Baby-Sitters Club
Tags: drama, growing up, history, past, Canada, girl, orphan, film adaptation