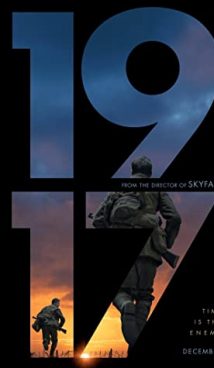 English, French, German

8.3
Synopsis
First World War, North of France. Fierce battles between German and British armies. General Erinmore dispatches two lance corporals to relay a message to a nearby battalion. The lives of thousands of British soldiers depend on whether the battalion commander colonel Mackenzie receives the report. Two lance corporals set off on a difficult journey.
Did You Know?
The film was first shown to the public on December 4, 2019 at The Royal Film Performance in London. On December 25, the film was released in an international distribution. The digital premiere of 1917 movie took place on March 26, 2020, and from that moment on, the movie is available for viewing on most streaming services.
The Royal Film Performance is a special charity event that has been held annually since 1946. The event was usually attended by members of the British Royal Family, and each year, one great film started distribution with this event. For example, in 1962 it was West Side Story, in 1980 it was Kramer vs. Kramer, and in 1997 it was Titanic. In 2015, the event was paused for five years. It's funny that the last movie of The Royal Film Performance before hiatus was also directed by Sam Mendes. It was Spectre, the twenty-fourth James Bond film.
Despite the fact that the movie 1917 is set in France, the film was shot in England. Stonehenge is placed in just ten kilometers from the set, and archaeologists were very unhappy with the filming. Scientists feared that not only well-known archaeological sites could be damaged, but also those that have yet to be discovered.
The actors rehearsed their roles for six months before filming began.
Two brothers – lance corporal Tom and lieutenant Blake both starred in Game of Thrones and the characters of both actors did not live to the end of the series.
Despite the illusion of non-stop filming, the film has a lot of masked splices. There are several dozen scenes in 1917, the longest of which lasts eight and a half minutes.
Information
A co-production film in the genre of war drama. The world premiere of 1917 movie took place on 4 December 2019 in London.
More Like This
Saving Private Ryan
War Horse
Tags: World War I, Sam Mendes, Battle, Death, History