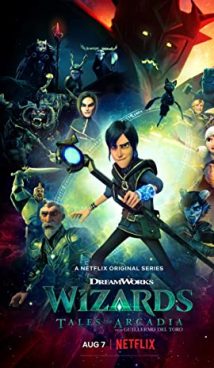 Synopsis
The Wizards is the final installment of Guillermo del Toro's "Tales of Arcadia" animated trilogy, about Heatherdux, a student of Merlin, the magician. Heatherdux asks for help from the Defenders of Arcadia and goes with them to the past to protect his master and confront the powerful Secret Order.
Interesting Facts
Guillermo del Toro helped the Netflix streaming platform get its hands on an entire "Tales of Arcadia" cartoon universe. Featuring three seasons of The Trollhunters and two seasons of The 3Below, Netflix plans to launch ten episodes of The Wizards. Connecting all storylines and revealing all the secrets, The Wizards will allow viewers to say goodbye to their favorite characters. On the day of the animated series premiere, Guillermo del Toro announced the sequel to Arcadia Tales, scheduled for 2021 – it will be the final of the story. The Trollhunters: Rise of the Titans full-length cartoon will premiere in 2021, where the heroes will finally deal with the Secret Order, and the producers will put a fat point to this animated epic.
The Wizards single season was made available to viewers on August 7, 2020 via the Netflix streaming platform.
Lena Headey, star of Game of Thrones, has once again cast her voice on Morgana's character, who has already appeared in The Trollhunters. Headey continues to actively participate in the development of animated series. She voiced Evil-Ling, the villainess from Masters of the Universe, the cult animated series, which will premiere later this year.
About
The Wizards is an American-made animated series filmed in an adventure genre. The first season premiered on August 7, 2020 on the Netflix streaming service.
Related Shows
3Below: Tales of Arcadia
Trollhunters: Tales of Arcadia
The Dragon Prince