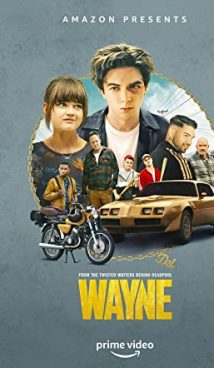 Synopsis
Meet Wayne, a fearless and hot-tempered teen from the hinterland of Massachusetts. Wayne has a heightened sense of justice, but the trouble is with his instinct of self-preservation: he can get involved in any fight, and many opponents avoid his fearlessness. Wayne is in love with Del, a complicated girl from a very aggressive family.
One day a tragedy happens in a guy's life — his father dies of cancer. Having buried him in quite a strange way, the young man decides to go to Florida, where a Pontiac, once stolen from his father, is. Wayne calls Del with him, and she agrees. Now he only needs to get the girl away from the family and somehow reach Florida.
The couple set off on a journey throughout the eastern part of the United States, always getting themselves in situations of varying degrees of danger.
The Wayne TV-series teeters on the verge of drama and a very black comedy, and in every episode, we are surprised at the behavior of the main character — he is good, he is strange, he is crazy.
Interesting Facts
Wayne premiered on January 16, 2019, on the YouTube Premium subscription service. YouTube has been working on its own film and TV-series content since 2015. However, it has not gained any popularity among the viewers: almost all original YouTube Premium series have already been closed, except for the comedy-action movie Cobra Kai, which has moved to Netflix.
Even though Wayne was well-received by the viewers (ten million views in the first five days), the series was canceled.
Among the other people, Rhett Reese and Paul Wernick, the creators of the first Deadpool, have worked on Wayne.
Information
This is an American crime tragicomedy TV-series.
Wayne's first season premiered on January 16, 2019, on YouTube Premium.
More Like This
The End of the F***ing World
I Am Not Okay with This
Deadly Class
Tags: drama, comedy, crime, thriller, action, road movie, teenagers