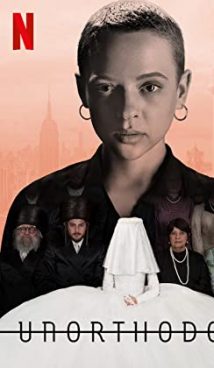 TV-MA
03 hours 33 minutes
German, English, Yiddish

8.0
Synopsis
Esther lives in the Orthodox Jewish community in Williamsburg, New York. Since childhood, she follows traditions and, under pressure from the family, marries Jacob, whose parents think of Esther only as an incubator for the heirs. However, Esther cannot get pregnant, the family looks at her with disapproval and starts to search for a replacement. When Esther finds out that she is finally expecting a child, she decides to flee the community to Berlin, where her mother lives. There Esther begins to understand the greatness of the world and that there are many ways for her to live her life.
Interesting Facts
– The actress Shira Haas, who played the main role in "Unorthodox," was a discovery for the viewers. She is already a star Israel, her homeland, but her international career is just beginning. Haas approaches her roles very responsibly: for the film "Esau" by Pavel Lungin, she learned to speak Russian, and for the filming of "Unorthodox," she learned Yiddish. Among other things, Shira is Natalie Portman's protege, who starred in "A Tale of Love and Darkness" that marked Portman's debut as a director.
– "Unorthodox" is another project of Netflix's international department. The TV-series was filmed in Germany and it is the first platform's series in the Yiddish language.
– "Unorthodox" showrunner Anna Winger has previously worked on the acclaimed German TV-series "Deutschland 83" and its sequel "Deutschland 86."
– Even though "Unorthodox" is based on the autobiography of Deborah Feldman, there are some differences between the series and the source. For example, the whole part about the main character's life in Berlin is fictional. By the way, Deborah appears in the fourth episode in the small role of a shop visitor.
Information
This is a German American drama TV-series based on the autobiographical novel by Deborah Feldman.
The premiere of the Season 1 took place on March 26, 2020 on Netflix.
FAQ
– What channel is behind the TV-series production?
"Unorthodox" was filmed for the Netflix streaming service.
– Will there be a continuation?
No. "Unorthodox" was originally planned as mini-series.
More Like This
The Spy
Shtisel
Unbelievable