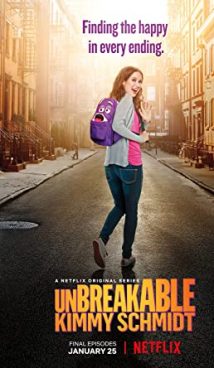 Synopsis
What is a girl named Kimmy Schmidt to do after sitting in a bunker for fifteen years, being an adherent of the teachings of some crazy preacher, believing at the end of the world? That is right, move to New York and enjoy life!
Kimmy's optimism is enough for an entire metropolis, and she never gets tired of sharing her cheerfulness with others, finding herself in ridiculous situations all the time because our world does not welcome overly optimistic idiots. However, time will put everything in its place.
Unbreakable Kimmy Schmidt is a wonderfully lighthearted and sometimes very funny comedy with charismatic characters, good plot twists, and an optimistic atmosphere.
Interesting Facts
Even though from the very beginning Unbreakable Kimmy Schmidt was planned to be shown on the American channel NBC, the project was eventually bought by the Netflix streaming service, where the comedy premiered. All 13 episodes of the first season were released on the same day, March 6, 2015. A year later, the second season came out, and in the spring of 2017, the third one saw the light of day. The fourth season was the final for Unbreakable Kimmy Schmidt. All 52 episodes of the series are now available for watching on Netflix.
On May 12, 2020, amid the first wave of the coronavirus pandemic, a special episode of the series dedicated to Kimmy's wedding was released on Netflix. The new episode became interactive: the viewer using the remote control could make decisions for the heroine. The special was nominated for two Emmy Awards. In total, Unbreakable Kimmy Schmidt has received 18 nominations for this award in five years.
Information
This is an American comedy TV-series.
The first season of Unbreakable Kimmy Schmidt premiered on March 6, 2015, on the Netflix streaming service.
More Like This
Parks and Recreation
30 Rock
New Girl
Grace and Frankie
Community
Tags: comedy, New York, friends, heroine