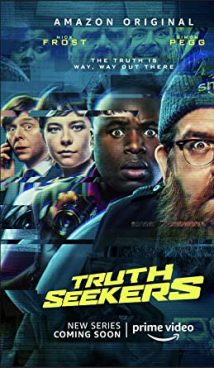 Synopsis
The Truth Seekers TV show tells the story of a supernatural researchers who roam around Britain, gathering information about various places where ghosts have been spotted. Taking current trends into their work, researchers broadcast their adventures via an online streaming service. Gus, the head of the team, who is a broadband internet fitter by profession, is fascinated by the supernatural for a special reason – he has lost a loved one and wants to meet with her again.
Investigating more and more cases of paranormal activity, researchers come to the conclusion that something is happening that may pose a threat to all of humanity.
Interesting Facts
Simon Pegg and Nick Frost, executive producers of the television series, are renowned British celebrity duo of actors. As friends in everyday life, they are often part of the stellar cast of various projects. They became famous thanks to a spoof trilogy consisting of "Shaun of the Dead", "Hot Fuzz" and "The World's End". While Nick Frost is currently starring in not top-rated films and TV shows, Simon Pegg has more outstanding success. Thus, he managed to get into the stellar cast of "Mission: Impossible" and "Star Trek", the popular film franchises.
Julian Barratt, creator of Mighty Bush, the cult paradox comedy released in 2004, starred in an episode of The Truth Seekers.
The series will premiere in the fall and episodes will be available on Amazon Prime. Although the exact release date has not yet been announced, we hope that the premiere will take place in the near future. As known, Amazon Prime platform releases serials making all episodes immediately available for viewing.
About
The Truth Seekers is a British-American horror comedy television series. The first season will premiere at the end of 2020 via Amazon Prime.
Related Shows
Wellington Paranormal
What We Do in the Shadows
Utopia